Indonesia has been an avid mango exporter, especially in times of the Covid-19 pandemic. It has been a rigorous journey for the country. There are local demands to meet. At the same time, we should comply with the high standards and quantity for international fruit deliveries. Here is what we know so far.
Smoldering Spirit for Mango Exporter in Indonesia – Surge of Demands Are Clearly Evident
It is a breath of fresh air for Indonesia as a mango exporter! Despite the difficulties from the affliction occurring all over the world, there is an increasing awareness of a healthy lifestyle by global citizens. This includes introducing more fruits and vegetables to fulfill the nutrition needed by the body to perform immunity well. People buy the notion resulting in flowing orders for fresh tropical fruits, especially mango at this point.
Mango export in Indonesia reached 568,7 tons from January to June 2019. Indonesia sends its mango commodities to countries like Singapore, Russia, the United Arab Emirates, Saudi Arabia, Malaysia, Oman, Bahrain, Qatar, Kuwait, Hong Kong, and the United States of America. The total export volume for mango according to Badan Pusat Statistik in 2019 accounted for 2.479 tons.
Indonesia's Mango Export Potential Still Widely Opens
Musdhalifah Machmud, Deputy for Food and Agribusiness Coordination at the Coordinating Ministry for the Economy, stated that there is a promising chance for Indonesia's mango export to expand in the near future. The bestselling mango commodities from Indonesia include Gedong Gincu, Harum Manis, Manalagi, and Golek. The centers for mango exporter are in regions such as East Java, Center Java, Bali, West Java, and West Nusa Tenggara. Indonesia alone can only cater to 6 out of 50 tons asked by the Singaporean market.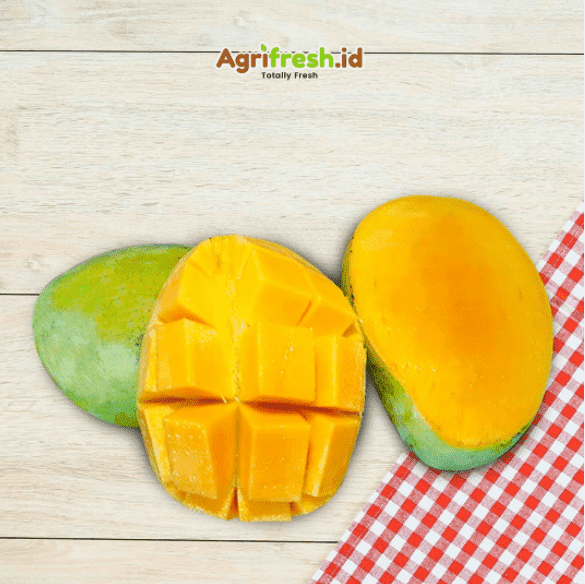 Therefore, local Agriculture Departments and the Government work hand in hand to raise the bar for fruit export in Indonesia. To achieve the goal, mango exporter training is continuously conducted to give an understanding of the latest and recognized export standards. Some of the requirements to get Indonesia's mango commodities to pass the screening such as flawless display of fruits with perfect sizes of 500gr for Harum Manis and 300gr for Gedong Gincu per fruit. Besides, each has to be pest-free. Chemical residues should be below the tolerance threshold.
New mango exporters are also encouraged to help in satisfying Indonesia's export targets and filling in the gap between the demands coming from the international markets and the tight mango production in Indonesia. Other things that need further consideration are faster transportation to deliver local produce abroad, sustainable packaging that can retain the freshness of the export fruits, and how to lower export tariffs that remain high in several countries.
The agrifresh.id – Your #1 Mango Exporter in Indonesia
The rising concern that a fresh fruit export company commonly encounters is how to keep the same high standards for export to local buyers. Considering the challenges we have as a mango exporter in Indonesia, our journey is too not so easy. However, compromising our quality is never our cup of tea for our mango exporter Dewa Agro Lestari – the agrifresh.id. We believe that the satisfaction of enjoying fruit itself should go both ways; we care about what we provide to not only the international markets but also local consumers. Agrifreshid performs a strict quality check on what enters our warehouse. We also ensure that everyone only gets our best quality products because they deserve it.
References: