Durian is an exotic fruit you can find in Southeast Asia. When it comes to this one-of-a-kind fruit, you are only left with two options. You are either super loving it or extremely hating it. There is almost no gap in between! Gladly, we have found the best way where you could enjoy durian fruit without being overwhelmed by the smell of it. Yes, as you can tell, we are executing our delightful durian pancake recipe today.
Making your best purchase of Durian with the best fresh fruit export company in Bali couldn't get any easier with Agri Fresh. To inquire about Indonesia's fruits in season today, contact us now at +62 8113854404 or +62 3619071410
How Does Durian Pancake Taste Like?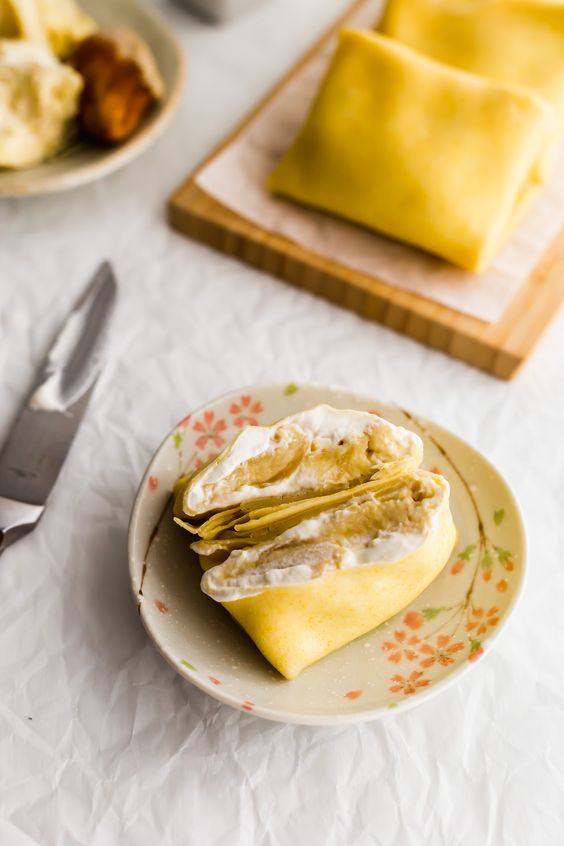 To begin with, durian pancake is a kind of dessert with a thin British pancake layer wrapping a yummy, soft durian custard. It is best enjoyed like an ice cream where you must freeze it before consumption. The freezing method allows you to compromise the potent durian smell rather than tasting it hot.
Durian's texture and natural sweetness combined to make the best ingredient for that perfect custard. We might be biased, but in the taste alone, it is just heavenly and addicting. Especially, if you nailed this recipe, it would feel like munching on a sweet durian mochi with a mix of condensed milk ice cream. The durian taste will be still there, but it will not be as overpowering as when you are eating each piece of it raw.
How Are You Going to Fall in Love with This Recipe?
This durian pancake recipe is easy and quick to make. You can adjust the portion and the size of the pancake depending on your pan as well. Moreover, if you like the filling to be thicker for a satisfying bite experience, you can always have an extra scoop of durian to be packed in your ready-made pancake.
The best thing about this durian pancake recipe by Agri Fresh is the pancake batter does not even contain additional blocks of sugar because the durian filling is the key to everything flawless about this recipe.
Have we mentioned that if you are in Bali and couldn't seem to find a vendor that sells the fruit around for the main ingredient, you can always rely on our fruit export company in Bali? Agri Fresh can deliver it fresh to the quantity and quality of your desire at any time of your convenience. Follow us on Instagram to never again leave our latest updates especially our best fruits and veggies that are in season!
We think you already get the gist about our recipe, so, what are you waiting for? Let's get cooking!
Ingredients You Will Need to Execute This Durian Pancake Recipe
Pancake Batter
250gr high protein flour or bread flour
4 eggs
Pinch of salt
350ml milk
1 tbsp melted unsalted butter
3 drops of pandan flavor
Food colorings of your choice
Margarine to prepare the pan
Durian Filling
1 durian fruit (gather the flesh of the fruit on a container)
2 tbsp of milk powder
2 tbsp of condensed milk
Good amount of whip cream
Durian Pancake Recipe
Follow these instructions carefully to succeed this durian pancake recipe, in the following:
Prepare a big bowl to mix all the ingredients for the pancake batter. Those are bread flour, egg, a pinch of salt, milk, unsalted butter, pandan flavoring, and salt.
To create the iconic durian pancake look, you need to have a few bowls to separate the batter based on the food coloring that you desire. Mix three drops of one food coloring in a bowl until you can start seeing the batter changing in the vibrant color of your pick.
Prepare the pan on a small heat the pour one big scoop of pancake batter on it. Move your batter as you place it to allow it to glide smoothly and form a complete circle. Make each spread as thin as possible and do not contain holes.
Pull away from the pan once it is cooked and repeat the process until your pancake batter runs out then let it cool down aside.
Put together the ingredients for the filling by mixing the whipped cream and the condensed milk
Now, to assemble the durian pancake, take one piece of the pancake then put the whipped cream on top and the durian flesh, then fold it to a rectangle shape. Repeat this process to the rest of the pancake.
We suggest placing your pancake in a container with a lid before storing it in a freezer. Once it is firmer to the touch, your durian pancake is ready to serve.
More recipe : Easy Pickle Recipe You Should Try: Indonesia's Asinan Salak
We Are So Excited to Know How You Like Our Recipe!
Don't forget to tag our fruit export company in Bali on Instagram if you have tried this finger-licking recipe at home.
We are curious to know your reaction. Also, durian pancake makes a perfect dessert on your day off or a quick delight to brighten your day.