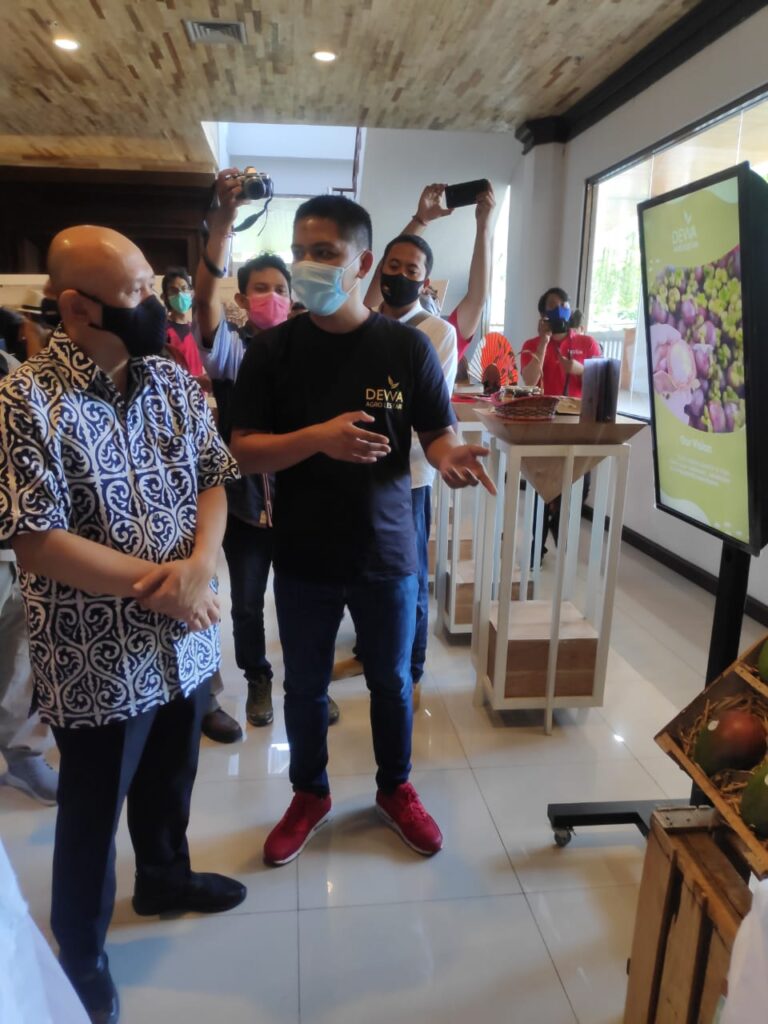 In November 2021, theagrifresh.id was owed a privilege to share our idea regarding Indonesia's fruit exports with the Ministry of Cooperatives and SMEs. As much as we loved our discussion with the government, we were also heartbroken to share the fact that fruit export tariffs remain notably high. It makes local farmers are striving to fill the gaps today.
Fresh fruits from Indonesia apparently are still high in export tariffs. It happens when Indonesia exported to several countries namely Japan, Pakistan, Korea, and European countries. Compared to other nations such as Vietnam, the Philippines, Malaysia, and Kenya, Indonesia still has the highest export tariffs. The surprising thing is, there are countries that are not subject to export tariffs at all.
Deputy for SMEs, Ministry of Cooperatives and SMEs (KEMENKOPUKM) Hanung Harimba Rachman mentioned differences in terms of export tariffs of pineapple commodity. Indonesia's pineapple when sent to South Korea is charged 30%. While Vietnam, particularly is only responsible for 18%.
Another case for banana commodities is quite noticeable in gaps. Banana export tariffs from Indonesia to Japan are 10% and 20%. At the same time, exports sourced from the Philippines merely take up 8% and 18%. Vietnam exports amount to 10% and 18%.
What the Government through KEMENKOPUKM Has in Plan to Compensate for the High Fruit Export Tariffs
Soaring fruit export tariffs lead fresh fruits from Indonesia less competitive in value in contrast to export products from other foreign countries. To respond to this matter, KEMENKOPUKM strives to balance and even better, reduce the high export tariffs to Indonesia. The government is planning for the KEMENKOPUKM to collaborate with the Ministry of Trade to promote fruit exports.
To balance the high fruit export tariffs, the government is attempting a quality improvement to deliver finer products in a larger capacity. While the Ministry of Trade and other ministries and institutions will focus on providing detailed information on the markets and arranging a trade agreement that can support the reduction of the tariffs and minimalize non-tariff barriers, ease of licensing, and getting a Business Identification Number (NIB).
In addition, Hanung affirmed that Indonesia must expand its fruit export to new markets. He thinks Indonesia should aim for China, New Zealand, Australia, and the USA.
Programs that Are Executed to Achieve the Ultimate Goal in Balancing the Pricey Fruit Export Tariffs
There are diverse collaboration programs that are currently running to compensate the fruit export tariffs. They are training supports, recommending outstanding MSMEs (micro, small and medium enterprises) brands that are eligible to join export trade, consolidation, and partnership with large enterprises, corporatization of farmers, factory sharing, and supply chain development of MSMEs. Moreover, the government also allocates 40% of the procurement budget for MSMEs and strategic partnerships of MSMEs will be joining the industry supply chain.
Other than those programs mentioned, there are several ways that the government suggests to all scales of businesses to up their trading game in the domestic sector and abroad. The government recommends MSMEs to sign up for e-commerce platforms and optimize their profiles to increase sales. They should wisely use public infrastructures as a way to develop and promote their businesses.
Domestic Fruits from Indonesia Have the Potential to Lead Foreign Markets
Fruits from Indonesia have great potential beyond the domestic market. This is what the government is fighting for today. They try to lead Indonesia's fruits to be the key role that could further the state's economic growth. Fruit export becomes one among many ways that the government aims to raise the revenue of the local farmers.
From local production-wise, there was an increase of average production of 10,12% in the last 4 years. In Q1 2020 during the pandemic, fruit import went through a significant decline than in the last quarter as much as 45% or equal to 14,5 thousand tons.
This significant increase in production is surely good news. This influences our capacity to export and to meet the demands of fruits in Indonesia. Especially, in times of Covid-19, when the locals are certainly in need of more fruits that can boost their immune system and have a lot of health benefits for the body.
Read more : Bali Mangosteen Is in Demand Despite the Pandemic: 2022 Outlook
The Agrifresh.id Never Disappoints
Our services allow you to enjoy Indonesia's exotic fruits at your table, delivered fresh and ripe on the season. To give you our best products, we implement careful quality control on all of our fruits. Our local farmers are aware of the quality standards of export products in foreign countries. Some of the countries we have provided such as Europe, USA, Russia, and many more.
To get to know more about our services and find out the fruit products, contact us at [email protected]. We are happy to get your trust to fulfill your daily needs for fruits.